The State of California and the US government require all California employers to post a number of required notices on their business premises to inform their employees of their legal rights.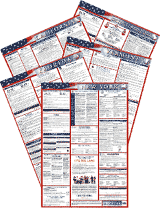 This has become a business in itself with companies selling the posters to businesses. The information is available free online but many businesses spend $25 to $100 a year to purchase nicely laminated posters to tack up in their break room.

The law mandates that most employers post at least 18 notices for your employees to read. If you don't want to buy a commercial laminated poster (suitable for framing) just click on the eighteen notices below, print them out and staple them to your wall. You will then be in compliance for this year.
(Repeat again next year, the notices may change.)

Required California Labor Notices
1. California Minimum Wage (PDF)
Sets forth California's minimum wage
2. Payday Notice (PDF)
Must specify the regular paydays and the time and place of payment. An employer-developed notice is permitted.
3. Safety and health protection on the job (PDF)
Contains pertinent information regarding safety rules and regulations.
4. Emergency phone numbers (PDF)
Lists emergency responders' phone numbers.
5. Notice to employees--injuries caused by work (PDF)
Advises employees of workers' compensation benefits.
6. Whistleblower protections (PDF)
Must be prominently displayed in lettering larger than size 14 type and include a list of employee rights and responsibilities under the whistleblower laws
7. Discrimination and Harassment in Employment are Prohibited by Law (PDF)
8. Pregnancy disability leave (PDF)
9. Family care and medical leave (CFRA leave) and pregnancy disability leave (PDF)
10. Notice to employees (PDF)
Advises employees of potential unemployment insurance, disability insurance and paid family leave insurance benefits.
11. Notice to employees: unemployment insurance benefits (PDF)
12. Time Off Work to Vote (PDF)
Required Federal Labor Notices
13. Federal Minimum Wage (PDF)
14. Equal employment opportunity is the law (PDF)
Includes Americans with Disabilities Act (ADA) poster.
15. Notice: Employee Polygraph Protection Act (PDF)
16. Family and Medical Leave Act (PDF)
17. Your Rights Under USERRA (PDF)
Required Workers Comp Notice
18. Notice of workers' compensation carrier and coverage
States the name of the employer's current compensation insurance carrier, or the fact that the employer is self-insured.
Obtained from the employer's workers' compensation insurance carrier. Labor Code section 3550
If you are insured with the California State Compensation Insurance Fund, use these forms:
Notice to Employees (PDF in English) Notice to Employees (PDF in Spanish)
Otherwise, contact your workers compensation insurance company or broker.
Required Brochures You Must Provide to New Employees
New Employee's Guide to Workers' Compensation (PDF in English/Spanish)
State Disabilty Insurance Provisions (PDF)
Paid Family Leave (PDF) - Employers are required to provide the Paid Family Leave brochure only to new employees and persons who request leave to care for a seriously ill family member or bond with a new minor child.
Sexual Harassment: The Facts about Sexual Harassment (PDF)

---
If these forms have saved you money, please take the time to add a link to our site on your website.
Just copy the text in the box to the right and paste it into a page on your own website.

It will look like this:

Or add any other type of link you prefer.
It will help other California employers to find our site.
---
Legal Disclaimers:
The laws change every day. This list may not be complete.
We are not attorneys. We do not render legal advice, please contact your attorney.
This list was compiled from public resources available on the Internet.
The links may change or be broken if the State of California redesigns their websites.